"Deconstruction seeks neither to reframe art with some perfect, apt and truthful new frame, nor simply to maintain the illusion of some pure and simple absence of a frame. Rather it shows that the frame is, in a sense, also inside the painting. For the frame is what "produces" the object of art, is what sets it off as an object of art—an aesthetic object…" James N.Powell
May 2018, was a month that glorified music experimentation in the most obvious way. Our initial impression that 'traditional' music genres are being gradually and creatively deconstructed or reconstructed by the bands these days, was confirmed by the releases of this month.
If the soundtrack of this month had to have a cover image, then this would be the' floating in the dark' architectural model of Arctic Monkeys' album 'Tranquility Base Hotel & Casino', merely because it adds an air of mystery and an architectural dimension to the music. Since we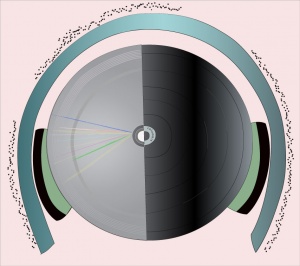 started with the Arctic Monkeys, it is fair to say that their album creates more questions than it answers. For starters it made me start searching for a special 'hidden' announcement about an ambitious development plan entitled 'Tranquility Base Hotel &Casino' (there is no such plan anywhere by the way).Then I stumbled upon the information that Tranquility Base was the name that Louis Armstrong gave to the area on which Apollo 11 landed in 1969 which is in the south-western corner of the lunar lava-plain called Mare Tranquillitatis ("Sea of Tranquility"). This album starts by making references to the easy-listening music of family movies of the 50s and could easily accompany an architectural presentation or an architectural documentary because the intellectual style of its soul-inspired melodies, fits well within the context of a potential high-end architectural project. Whether it is the voice of Elvis Costello or that of David Bowie while singing 'Wild Is The Wind' that comes to mind while listening to this album, you will certainly appreciate the creativity of the band, their fascination with slow and sensational melodies and their desire to create an album that stands out of their discography as the most conceptually obscure one of all. Arctic Monkeys will perform live at The O2 Arena from 9-13 September 2018.
The album entitled 'Nowadays' by Palace Winter, will provide a release to any complicated thoughts that the previous album might have started in your mind. Its beautiful, serene, elegant synth indie rock melodies will make sure of it. Palace Winter will perform live on November 1st 2018 at Hackney's OSLO. Alongside them, The Buttertones enrich the mix of influences in their album 'Midnight In A Moonless Dream', a title that might refer to the 'Midnight Summer Dream' in some ways. I have really enjoyed the beautiful blend of rock'n roll, country and blues that traverses this album but mostly I enjoyed the stylistic diversions that were evident through the frenetic, trippy solos of the saxophone and the percussion, through a performing style that often brought to mind both Elvis Presley and Nick Cave. This is definitely an album for the small hours of the night along with 'V' the new album released by Wooden Shjips, that will make you want to listen to Lou Reed again as it seems that his music has been a source of inspiration for the band.
Things are now starting to become much darker in mood and much more experimental in aesthetics as Ice Baths seem to have had the aim of deconstructing any identifiable characteristics or borders between dynamic post punk and noisy psych rock through their impressive debut album entitled 'Ice Baths'. Not far away from this line of thought, falls the debut album by Wax Chattels entitled 'Wax Chattels'. Having a sound that brings to mind that of Suicide and early industrial music as well, the band did not hesitate to let themselves be carried away and so they interject their soundscapes with moments where frantic guitars and heart racing drums take control and create a hard-to-exit psychedelia which is then craftily combined with dreamy intervals. Wax Chattels will perform live at Camden's Lock Tavern on June 26th 2018. Talking about psychedelia, Mayflower Madame are 'feeding' on it at so many levels in their new EP entitled 'Premonition'.The band from Oslo has released its debut full-length album entitled 'Observed In A Dream' in 2016 and is fascinated by a sort of coldwave psychedelia. It is noteworthy that the voice of Trond Fagernes has the lyricism of Ian McCulloch and adds more melody and 'colour' to the electrifying, vibrating sounds that surround it.In their new EP they are less dark in their aesthetic references and deliver electrifying instrumental parts within their songs. We would love to see them perform live in London. We were thrilled by the album '7' of Beach House because we have found that the band surpassed itself and experimented by exploring different possibilities within dream pop. Percussion has been enhanced in this album and has given more 'depth' to the melodies, more strength to the rhythms and a fascinating 'weight' to the dreamy vocals. Having as a cover, their most surreal and existentialist image they have used to date, I think that this is my favourite album of the band so far. Following a similar mood, Mt Desolation in their album 'When The Night Calls', offer a beautiful set of indie rock, soul-inspired, gentle and melodic songs that are perfect for the dusk. Pat Moon continuously brought to mind the sound of This Mortal Coil, while listening to their album entitled 'Romantic Era'.
Ballads are interesting songs, they usually make one feel nostalgic and emotional and they keep their dynamics under control. Well…that is not how LOCKS and Carla Bozulich have approached the genre through their two albums entitled 'Skeletal Blues' and (ironically) 'Quieter'. The former is an impressive debut, combine a fascination for ballads with a murder theme, rockabilly aesthetics and nicely incorporated Irish and country music melodies. It is an album that asks for a small play or short film to be produced next, so that it completes the picture that it paints. The smoky and emotional vocals that will make you want to listen to Cat Power's 'Werewolf', will definitely make you start dancing with an imaginary partner, in whichever setting you will find yourselves. Enjoy it and don't lost the live performance of the band at Rough Trade East on June 27th ! 'Quieter' on the other hand, seems to be passing the style of the beloved Gitane Demone through chilling electric currents in a low lit environment where many dangers await to be revealed…It is an album with a fascinating, ceremonial atmosphere that will leave you no other choice than be totally absorbed by it. The hurling, ecstatic and primordial vocals of The Body might try to shake you away from the sonic pit of 'Quieter' and make you scream the phrase that is also the title of this album, 'I Have Fought Against It But I Can't Any Longer'. If you think for a second, that this album will put you in a more 'pleasant' atmosphere you are mistaken. Whether it will be the choral vocals that 'fight' the pulsating background rhythm that brings them to the foreground or the distorted noisy soundscapes that gradually surrounds them or the lyrical, lamenting voice that invokes some sort of power…this album will leave a strong mark on your heart and your brain…if you are not careful!
But GNOD will put an end to this and make sure you remember the reasons you love Steve Reich, the latest sound of SWANS and dark psych rock music. 'Chapel Perilous' is an experimental and a ceremonial album above everything else, in which voice samples are interchanged with minimal or noise and distorted sonic phrases, which are 'guided' by the sound of bells, in a beautiful cinematic way. The result is an album which embraces the dark side of tribal music. 'Vive La Void', the debut solo album of Vive La Void, a.k.a Sanae (Moon Duo) will either get you out of the tribal trance or make you numb for a few minutes. With melodies that are minimal in aesthetics, seemingly muffled beats, and emotionally motivational rhythms, this is IDM music at its lightest form. I have enjoyed every note of this album from beginning to end. The production of it should also be mentioned as every little sound has been given the place and the 'weight' it needs so that the dreamy vocals just hover above all of it like those of a siren…Vive La Void will perform live at The Lexington on June 19th and we cannot wait to listen to this album live then.
Heaviness takes a different form in the next two albums of our playlist. 'The Euphoric' by The Fierce And The Dead, reveal both the playful and the darker sides of krautrock by further enhancing their signature heavy sound with inspiring visuals. You can read more about this album here. Rabia Sorda on the other hand, have offered us a rather catchy but equally heavy in aesthetics, album, entitled 'The World Ends Today'. It was really interesting to listen to the metal-inspired guitars alongside the industrial rhythms and overall aesthetics of the rest of the album. It would be a mistake not to mention the captivating synth based coldwave single by Stereopolina, entitled 'Die Blechtrommel'.It would also be a mistake not to acknowledge the creative sonic transformation that HEKATE have been through during the 7 years that have passed since the release of their last album entitled 'Die Welt Der Dunklen Gärten'. May 2018 was the month that saw the release of their next album entitled 'Totentanz'. Melody has always been an important part of the band's work and has been revealed through attractive melodies played in keyboards, combined with assertive, captivating and addictive percussion rhythms and the beautiful juxtaposition of male and female vocals, that the purists of guitar folk and medieval folk music will certainly love.In this album, synthesizer melodies, dynamic percussion rhythms and a fascination for Art Nouveau (the cover of the album has been created by Franz Stassen) and Romanticism (the song 'Mondnacht' is a poem by Joseph von Eichendorff) are combined with flowing guitar riffs that bind all of them together. As before, the band has entwined melodies that are influenced by more traditional music styles with nicely positioned samples and is no stranger to sonic ceremonial atmospheres. We had the chance to see the band perform live in Leipzig this year and we could hope to see them perfom live in London.
Of course a monthly playlist would not be complete without punk music and the passionate trio called Girls In Synthesis who offered us a feverish performance at Nambucca earlier this year and an impressive debut EP, deliver yet another dynamic EP entitled 'We Might Not Make It Tomorrow'.
Now, the weirdest and darkest album of the month is Cecilia's debut album entitled 'Adoration'.It is a theatrical album that, will make you have chills… It's music is experimental electronic with deconstructing attitude that is revealed through the syncopation that is widely used. When melody is discreetly introduced in this album, the mental image it creates is that of a forgotten, dusty, music box that is been used for the first time after many years…
Enough said. Enjoy our playlist!
Blaue Rosen