Release Date: 14 September 2018
1. Quorum/2. Dancing and Blood/ 3.Fly/4.Tempest/5.Always Up/6.Always Trying To Work It Out/7.The Son, The Sun/8. Dancing And Fire/9. Poor Sucker/1o. Rome (Always In The Dark)/11.Disarray
Label: Sub Pop
'Beauty will be convulsive or will not be at all' (André Breton)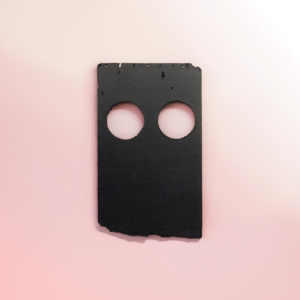 Listening to an album by LOW is like going on a journey with a trusted guide. The band has, for 24 years, driven our souls into serene places, areas with dreamy qualities, where vocals of an ethereal nature take us into spaces painted with light colours that hinted at a darker palette but never quite revealed it. Their music has always created a feeling similar to listening to an Angelo Badalamenti piece. Well, the time has come for things to change a little bit and 'Double Negative' is the proof that LOW are now 'luring' us into a dark, misty, 'heavy', area that further alters our perception of both time and space.
"Before it falls into total disarray
You'll have to learn to live a different way
Too late to look back on apocryphal verse
And to be something beyond kinder than words…" (lyrics: 'Disarray')
The music
Having as a cover, an image that is as enigmatic as it is symbolic, LOW have created a beautiful album that provides valuable serenity within a uniquely crafted darkness. As with all the band's albums, in 'Double Negative' there is this unique combination of calmness and numbness that traverses all the songs, but which, in this case has been further charged with emotional dynamism. The sound is infinitely more experimental, more distorted, more noisy, dark ambient even,  than what the band has produced so far, since the release of their very first album 'I Could Live In Hope' in 1994. 'Double Negative' feels like a choreography where the voices come to the foreground in theatrical and different ways each time, with the purpose of adding context to what the slow, dark and very textured rhythms, hint at. The vocals are also there to ascribe poetic qualities to the heaviness and the 'grounding' elements of the low tone beats of the background.
The music of this album, minimal, experimental, has more electronic than acoustic elements, delivers something impatient and ominous. This is unlike anything else that the band has produced so far. The structure of the songs has been taken apart as there is no beginning, middle part and ending but a continuous alteration of moods and energies throughout. The lyrics, minimal, sometimes consisting of just two sharp words that only hint at an idea, seem to be dealing with existential and personal matters. Reading the lyrics in isolation, quickly creates the impression that you are inside a person's mind, having been given a rare and precious access to their unpolished, unformed, raw thoughts right at the moment before they get a coherent form. What is more enjoyable is that this is an honest communication not a pretentious one. I can honestly feel that these lyrics give me a glimpse of a person's mind in action, of a person trying to make sense and speak about different things.
All you've given, all you took
All you promised, all your hopes
After all you've done
Fling your body to the walls' (lyrics 'Poor Sucker')
None of the songs of this album has the slightest resemblance with the band's previous albums. I personally loved everything about this album! The music of the band so far, was always minimal in its aesthetics, rich in emotions on what concerned the delivery of the lyrics and with a lot of musicality. It is truly fascinating to see LOW take these same elements and give another form to them. This album retains the minimalism in the rhythms and overall aesthetics, retains this unique quality of the music to make us feel numb while listening to it, but explores the effect that electronic minimalism, vocal distortion, distorted sound samples, even subtle tribal percussion and dark ambient atmosphere have on the lyrics. The vocals are layered and manipulated so that they ultimately become something otherworldly.
The lyrics
Apart from 'Always Trying to Work It Out' and 'Poor Sucker' none of the other songs' lyrics are telling a story, they all give us glimpses of a 'story', of different ideas, but these are the only songs whose lyrics create a scenario. 'The Son, The Sun' is the more cryptic and the more stripped down song of this album in terms of its lyrics. 'Dancing and Blood' and 'Dancing and Fire' seem to be conceptually connected through this verse: 'It's more let it out and let it go. It's not the end, it's just the end of hope.' which somehow makes the connection with the dancing man on the video of 'Dancing and Blood'.
The videos
Four videos have been produced so far, all of them a blow through the heart. Just as the music has a subtle element of deconstruction in its structure, so do the videos which often present different scenes in parallel, a collage of different shots that do not hesitate to 'play' with perspective, both conceptual and geometric.
When these videos were first released they had a strong impact on me. LOW have explored different avenues for expressing themselves and have been as straightforward as possible through these videos that deal with difficult and dark subjects of illness, ageing, treating life as a journey (i.e. 'Fly'), existential matters and philosophical questions.
'FLY', was directed by Mark Pellington, an American director who describes his work as: '… a PROCESS of bringing to the  surface repressed emotions, complexities, and feelings in an effort to identify them… and to release them'. This is a video that could be part of a Bela Tarr movie because it describes a harsh reality in a poetic but very straightforward way.
The image of a man that is dancing in slow motion between two poles at a club, in the video of 'Dancing and Blood', has been imprinted on my mind since the first time I watched it. This video was directed by Karlos Rene Ayala who has also collaborated with Chelsea Wolfe at her album 'Abyss'. We were excited to read that Karlos is fascinated and influenced, by the notions of deconstruction as have been explored by Derrida. The main character of this video, his movement and expressions, talk 'silently' about different subjects such as: motivation of oneself, dare, not compromising but staying honest to oneself, freedom to express oneself and determination. Aged people are not usually portrayed sympathetically, there is always an element of sadness or inevitability in the depiction of stories of older people. What 'Dancing and Blood' does, is actually lift all the darkness from the subject and present an energetic and motivated man who is inspired and truly free and maybe a little bit of a villain in the end…at least that was my impression.
'Poor Sucker' is the video that stands out from all the rest. It was directed by Ben Chisholm also a collaborator of Chelsea Wolfe and it reads like a Basquiat painting. While the story of the lyrics is unveiled, we see a face being painted and repainted in ways that exaggerate or even reveal hidden expressions and their punctuation marks, the same way punctuation marks define the tone of a sentence. This is the only coloured video and the 'lightest' in mood of the four that have been created.
Finally, 'Quorum' was the result of collaboration between Ben Chisolm (director) and Karlos Rene Ayala (director of photography). It is gothic in its aesthetics as it seems to be presenting the menacing qualities of nature and landsape bringing to mind the way Emily Brontë wrote about the fearsome and unpredictable dangers of nature in 'Wuthering Heights'.The video is experimental and uses the cut out as a method of deconstructing the narrative and the continuity of each image that it presents.
This album, as all the albums from the band but even more so, is meant to be listened without interruptions from start to finish. It is a conceptual album in terms of its aesthetical and emotional aspects and it is an album that makes seamless transitions between the songs. The songs themselves have been treated as blank canvases, as areas where ideas, energies and emotions can be expressed in a spontaneous, non-linear, deconstructive way. This seems to achieve what the surrealists talked about when they said that beauty should be convulsive, using it as a synonym of spontaneity rather than lack of cohesion or form.
'Double Negative' was a special moment in this year's releases. LOW have been clearly inspired and they continue to inspire us, the recipients of their music. The only thing left for us to do is make the time to delve into our psyches having their music as a guide.
Congratulations!
Following their performance at this year's Meltdown festival, LOW will visit London in 2019 for another special appearance at Barbican Centre on February 1st. You can buy tickets for this gig from here.
Blaue Rosen