It made perfect sense to choose a celebratory gig by a favourite promoter as our first gig for 2022. It made sense because we are absolutely thrilled that Chaos Theory hung in there during covid and has now come back. This mini festival was both a celebration of 12 years of presence in the London alternative scene and a showcase of musicians that Chaos Theory has and will continue to support in the future. Over eight hours, we were  taken on a musical trip that had meditational, ceremonial, psychedelic, noise, lyrical, angry, melancholic and solemn moments.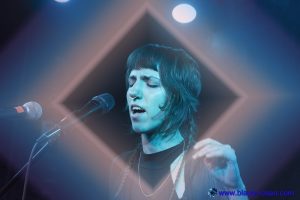 Alice Karveli aka Black Arrows started us off with a set that was probably better suited to a natural environment. A talented multi-instrumentalist and multi-disciplinary artist, Alice's ethereal vocals, entwined with lyrical ambience, combined with drone sounds, bells, drums, percussion instruments, flute and an electric guitar made to sound like a landing spaceship. Using her voice mostly as a channel that at times delivered verses and other times just sounds, Alice's set was really a call more than anything else – as is the case for all of her work. Last year, we had the chance to watch a short film of hers, created as part of her Mixed Media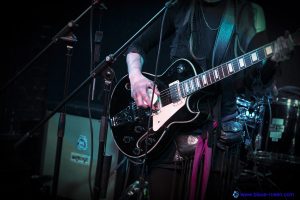 Fine Art Degree. In the film, one followed the creation, transportation and burial of a giant egg, a primordial element, a symbol. Alice was the carrier of a message, she  had both the wisdom to understand it and the inspiration to give to it another form. We were mere witnesses (you can watch this short movie here). Her set last night was something similar in a simpler form that sadly did not convey all the messages in their complexity. One has to go beyond the sound and just read the lyrics that accompany Black Arrows sonic releases to understand that all of her artistic output so far has an existential and corporeal element at its core.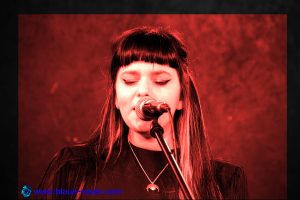 E y e was next and, as  their vocalist Jessica Ball (Mammoth Weed Wizzard Bastard) informed us, this is a new project and  their first gig, so we were chuffed to  be able to enjoy them live. This is a three-piece outfit from Wales, with a humble yet quite dynamic stage presence, whose music had dreamy and dark ethereal qualities, heightened even further by Jessica's beautiful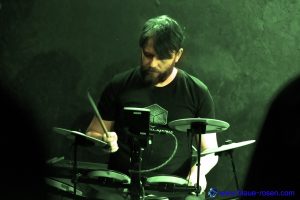 vocals. Their set was a bit too short, and they seemed to experience some technical difficulties – despite that, they had a lasting impact on me and others I talked with around the venue. There were some moments when I experienced a fleeting sensation of lack of confidence in them which doesn't do justice to the beautiful sound they have produced. For the fans of the older short-lived band named Cranes, E y e has come very close to the qualities of this band.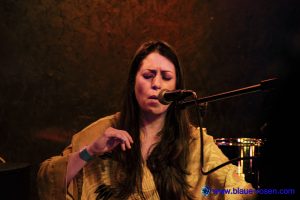 Maud the Moth was up next, and nothing could have prepared us  for the energy that was about to be unleashed from the stage. This project has been on our radar ever since we saw her named as an opening act for the (sadly cancelled) gig of Jarboe and P. Emerson Williams in 2021. A classically trained musician with great compositional and performative skill, she delivered songs that started off as blues' sonatas or even dark ballads and gradually created sonic hyenas that seemed to have used her 'body' as a vessel, only to be dragged out of there with vehemence and vitriolic energy. We listened to songs about transformation and death, and we had in front of
us a performer in human form that had transcended the form long ago. The stage was too small for Maud and, much like Alice's performance, Maud's work has many dimensions to it, spiritual, symbolic, tied to nature and its many processes, thus  I quickly felt the need to be in the middle of a forest with Maud at the center of a shape. Bells, loops, distortion, and a voice that conveyed a lived and tamed sadness beyond anything immediately tangible. With music that occupied such a large tonal scale both vocally and for the instruments, the sound engineering needed to be carefully crafted so that all the elements could be delivered to the audience as planned. The voice was 'coloured', the melodies were 'coloured' and yet none of it was revealed by the sound engineering,  resulting in a harsh sound especially during the louder passages. Of all the bands that were part of this gig, Maud's music was the only one that had such extreme tonal differences and thus
demanded a sound that was crafted with surgical precision. Despite all this, we got lost inside her poetic sonic rituals, only because of the emotional strength that she emits from the stage;  lost inside the darkness of her melancholic compositions and we only managed to get out of this during those moments where hypnotism gave way to louder invocations of all sorts of spirits. There were moments during which some of the phrases nodded towards Wim Mertens, and it was during these moments that we reached a meditational state…if only briefly. Congratulations are due, and we promise to follow Maud's career closely from now on. You can listen and support this project here.



Black Helium were up next, a great stoner rock trio whose hypnotic and slow psychedelic soundscapes have darker characteristics and no ethereal elements compared to E y e. We needed to settle our emotional landscapes a bit, and this band's music managed to put us in a spiritual slow motion. We  were left tripping as 60s psychedelia – in both the
rhythmic alterations and the nature of the sound created, the whooshes, the psychedelic vibrations, the electrified and distorted guitar sound – is at the core of this band's sound. I felt the need for a wind instrument to be added to the mix but, overall, the effect of this band's sound was striking. The air was starting to get a little bit 'heavier' sonically. You can listen and support this band here. Nothing could have prepared us for what came next – and what still has registered as one more favourite band from this lineup. The band whose name we have difficulty  pronouncing made an impact that lingered into the following day.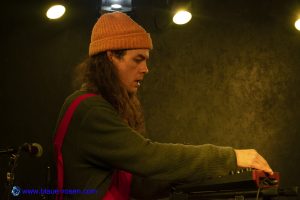 They are just two – but two very talented musicians who not only perform sound but feel it too. Their name: Heronnoreh. Their aesthetics: with a nod to sound crafters, if that is even a term that one can use, they look to be the lumberjacks of sound, they could easily be the kind of musicians that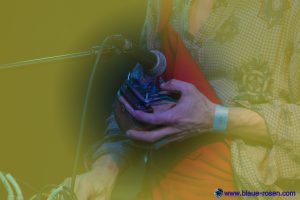 make their own instruments. Instead, they have tamed synths, drums, knobs and a sax and made them channels of energy beyond their original capabilities. This was the first gig for the band previously known as Theo, and for the next 30' they contracted and expanded the sonic space around us, transferred us to the center of a rainforest with unknown creatures around us, inside a tribal ecstatic dance, and then took us to the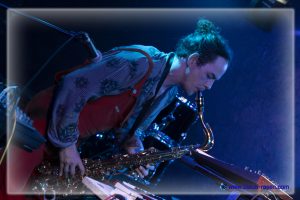 top of a mountain so that we could properly hear the call of a trumpeter whose 'call' was only meant to alert the inhabitants of a small town… There was no point watching them, handling the kalimba, press keys or blow on the sax or even hit the drums, as the sounds that they were producing transcended these instruments from the first note played. So we closed our eyes and let the rhythms do their trick, until everything reached the ecstatic high point that gives birth to all kinds of exhilarating feelings. We did not
expect that, guys, and we can't thank you enough for managing to achieve this on such a small stage in such a small venue. Heronnoreh's music is not yet available online, something that we hope will change soon.
The post black metal, heavy rock trio  Mountainscape was up next. A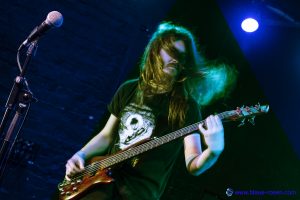 throbbing, vibrating, dark, noisy guitar wall was 'constructed' by this loud trio. Following a rhythm that barely changed from one track to the next , Mountainscape offered a heavy, fully instrumental set grounded by the drum-beats, during which it seemed as if our breath had been captured and could only be released at the end of their set.  If this is the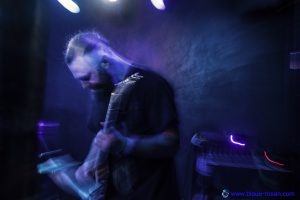 sound that a mountainscape inspires, then it must be that of a Scandinavian country during winter. The band released its debut album 'Acceptance' in February 2021 and you can listen to it here.
Rad Pitt came on next and made sure that things got much angrier than they had been thus far. Their hardcore punk songs and attitude on stage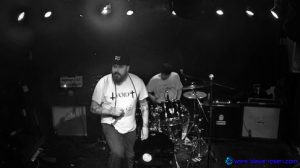 appealed to the fans of the genre in the audience. Their guitarist positioned himself in the audience from the beginning and the second track saw the bassist join him in the audience as the vocals became even angrier. If someone was looking for lyricism within Rad Pitt's set, they would have been  disappointed as their sound is all about attitude and a fiery energy. If one goes beyond the sonic assault and looks at the band's lyrics, one would find that this is a band that deals with the disappointments of the everyday life on a personal and social level with a bottom-up approach. If their music were a film, it would sit quite comfortably in the genre of neorealism.

Coming on stage right after Rad Pitt, Shooting Daggers had a whole different story to share with us. This three-piece queer punk band is creating music with a strong political and social message. Anger, and a desire to create space and grab things and rights that are deemed to be taken away, are at the heart of this band's output. During their short set, they put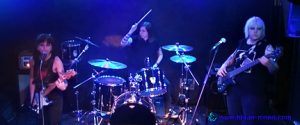 out messages in support of animal liberation and queer rights, and they made sure that they were inscribed in our minds as advocates of these messages. At times it seemed as if the message was more important than the sound. They were the angriest of all the bands that we saw on stage but, despite that, some lyricism was evident in their music. It was obvious that the band has found the sound that fits their personalities best, but it was also quite evident that there is more to come from their performance, especially as far as the vocals are concerned.
This mini festival ended with a set by Colossal Squid who, despite the fact that he did not resemble a squid at all,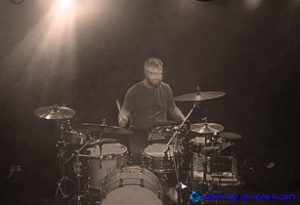 managed to calm things down a little. Adam Betts – a.k.a Colossal Squid – was behind drums both analogue and electronic and, using an interesting combination of IDM, electronic, and dub elements, he offered a trippy set that managed to close the circle that Alice Karvelli had opened eight hours earlier. Programmed phrases, vocals and instrumental samples were seamlessly complementing his drumming, at times putting the audience in a light trance and other times making them want to dance on their toes. You can listen and support the project from here.
Blaue Rosen