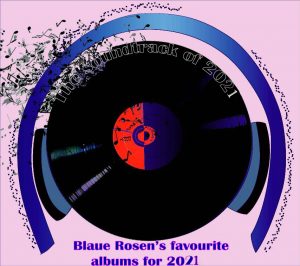 2021 did not turn out to be the year that would overturn the black veil of dystopia cast over the world by the pandemic. But it did bring other good things – like the ability to stop, the ability to slow down, an appreciation of walking and resting. Despite all the noise around the impact of covid-19 on the cultural sector, some bands and musicians found new ways to communicate with their audiences and fans and others found inspiration in this dark place. Our list of the best releases of the year is testament to the above. Towards the end of the year, some gigs did manage to attract an audience 'albeit a hesitant one' and, even though the desire to attend gigs might have been challenged for good, the year ended with the promise of better things ahead.


Music, as always, was the only constant during this year and we have been treated with exceptionally powerful sonic stories by new and well established bands alike. As far as Blauerosen was concerned, we started a monthly radioshow on Tak Tent Radio – partnering with Jointweird – and we launched an online merch store on Redbubble with original Blauerosen designs.
Bands responded to a general trend of 'looking inside' and saying things as raw as they come to one's mind. At the same time, most of the sonic output of this year was existentially obscure and emotionally 'cold'. The past two years have changed everyone and everything and this is reflected in the music that was created. Our soundtrack of 2021 takes a sonic trip that passes through psych rock, experimental, dark ambient, electronic, gothic, post-punk and coldwave. Glimpses of melody and lighter emotions have managed to slip through the darkness in a few of our favourite releases of the year, cutting through the dystopia that we all lived in. During 2021 we particularly loved the new albums by Of The Wand And The Moon, IDLES, Public Service Broadcasting, Mogwai, Whispering Sons, Wolves Like Me, Lingua Ignota, hackedepicciotto and The Underground Youth. We neither know, nor can predict, how the new year will develop and what changes it will trigger in the live music business, but we know that new ways of supporting musicians and labels will only strengthen our connection with them, just as new music will inspire us. Continue to support your scene, focus on the fact that sound has the ability to make the mind journey to less travelled paths and cherish the newfound ability to take things slower. As Justin Sullivan wisely pointed out during New Model Army's 40th anniversary gig in London, '…remember, people, not everything was great before all this shit, so let's hope things will be better from now on…'!