Release Date: 6 August 2021
1.THE ORDER OF SPIRITUAL VIRGINS /2. I WHO BEND THE TALL GRASSES /3. PENNSYLVANIA FURNACE /4. MANY HANDS /5. MAN IS LIKE A SPRING FLOWER /6.REPENT NOW CONFESS NOW/7. THE SACRED LINAMENT OF JUDGMENT /8. PERPETUAL FLAME OF CENTRALIA/9. MAN IS LIKE A SPRING FLOWER/10. THE SOLITARY BRETHREN OF EPHRATA
Label: Sargent House
An existential cry from the periphery of Hell to the depths of Lower Hell
This is an album that you must handle with care from the second you unseal it. This is an LP that you must take care of, possibly more than very few others in your collection. This is a sonic howl from the depths of Hell that overwhelms all conscious sentiment of those who never perceived sin this way before. It is a procession for the expulsion of pain and for this reason it is sacred.
Each time Kristin Hayter, a.k.a Lingua Ignota, offers us a sonic story, it is often one written in blood. 'SINNER GET READY' – an album that defies categorization, whose title and song titles are written in capital letters to signify their conceptual gravity – is the sixth release by Lingua Ignota in four years. It surpasses everything that she has created so far in terms of production, texture, emotional and conceptual depth, arrangement, aesthetic references, instrumentation and performance. If the previous releases were all delivered from the perspective of a creature in one of the seven circles of Upper Hell, then 'SINNER GET READY' is the sound of all the gatekeepers of Hell combined.
SINNER – their emotional Hell
An album that seeks solace in the Bible and an audience graceful enough to receive it. Lingua Ignota channels the raw energy of her own experience through an awe–inspiring interpretation and re-imagination of certain Biblical passages. Borrowing Baroque music forms and aesthetics which are bent to her will, 'SINNER GET READY' once again commands attention; not to a despotic character but to one whose psychic weight cannot be held.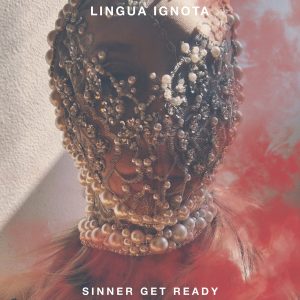 The SINNER's dance macabre is led by the spiritual virgins who, according to the Bible, are a group of 144,000, comprised of 'cleansed sinners', designated as 'virgin'. The soothing piano notes, representing a red stream of blood that soon turns into a menacing shower, feel as if they are tracing the steps of these virgins, just as Kristin's many voices resolve into one declaring eternal devotion in a voice that reveals all the possible shades of pain. "Sickness finds a way in eternal devotion…" howls Lingua Ignota, and makes us all wonder about the danger of entrapment in emotionally subverted relationships. The symbolism of tall grasses as bars of a high security prison, destined to crush the most evil of souls, takes on a whole other meaning as Kristin's voice loses its human dimensions and pleads to a God that punishes. The imaginary creature is not asking, but rather demands proof in blood that its devotion is valued. It howls for justice not at some point in the future but RIGHT NOW!
"In unforgiving Night God came
plainly spoke my given name
Upon your pale body I will put many hands…
the Lord spat and held me by my neck…" (lyrics: 'MANY HANDS')


The creature then narrates the story of its Fall, a pre-determined Fall upon which no body had any control, before retreating, using repent as a weapon of concealing and treating its wounds, and as a mantra that accompanies a concealment into the self. 'REPENT NOW CONFESS NOW', switches from the third singular to the first singular at the last verse and makes things clear…these are not the wounds of the SINNER but of the sinned against. The creature addresses the SINNER directly while looking at us, the audience, with fiery eyes. It attempts to present its scars as precious gems, carefully placed upon its body as seals of approval. "I have made my body, a vessel…" it shouts! It uses the unbreakable silence and gaping darkness for its psychic, manic dance. Lingua Ignota had already said, ahead of the release of this album, that she was based in Pennsylvania and that the spirit and energy of the town she lived in was a key aspect of the resulting sound. Centralia, which is the subject of 'PERPETUAL FLAME OF CENTRALIA' is a ghost town in Columbia county, a result of a terrible industrial event, the catastrophic fire of a coal mine. The video that has been produced for this song, juxtaposes the destructive powers of fire and abandonment with the vastness and quietness of an undisturbed landscape. Kristin, as a messenger who reaches for guidance before preparing herself for a purification ritual as signified by the bowl of water, the scythe and the carafe, manages to present herself as part of this undisturbed natural landscape that creates and destroys itself in an uncontested way. It is only in this video that the organic and the Divine enter into a dialogue at a symbolic level. The symbolism of fire, not as a cleansing mechanism but as a destroyer of hope, is explored towards the end of this album.
"Life is a song and the raging fires of hell burn long…" (lyrics: 'PERPETUAL FLAME OF CENTRALIA')
Just before retreating for a while, the creature jumps up from its own ashes, only to verbally attack us with aphorisms…
"The heart of man is unbearable to hold…" (lyrics: 'MAN IS LIKE A SPRING FLOWER')
Suspended between a Nietzschean universe and a Dantean one, this album ends our sonic journey by declaring a solitary existence, one of cleansing not in a purifying but rather a punitive manner.
SINNER – the sonic Inferno
Just as there are many levels to the existential suffering that dominates this album, so there are many levels to the sound that engulfs its subject matter which is suffering as an integral part of the human experience and its relation with the Divine. Getting deeper into the form and essence of religious chant and religious ritual, the performance of each verse reflects an embodied experience. If you are a being that appreciates spirituality and deep experiences, then you must share our conviction about the inability of all existing chants of organized religion to convey any inspirational and powerful meaning to a congregation no matter how deep the level of faith! Replace all the priests with priestesses and forget all about the Byzantine psalms and the Gregorian chant, bring a Kristin Hayter to every chapel and place of worship around the world and let her 'guide' people, not as a preacher, not as bearer of the absolute truth, but as a channeler of the same part of the human experience that defines the relationship with the Divine – the difficult to hold, the unspeakably raw. She might have been singing about making her body a vessel, but she has definitely made her voice one too, and a bone-cracking one. The form and style of tribal chant has inspired the delivery of some lyrics while religious references and psalmic forms are taken out of their systemic context and redefined.

As with Caligula, Lingua Ignota has left the production and engineering of this new album in the skilled hands of Seth Manchester, who has made leaps forward, making sure that the sound has volume, the arrangement is bringing out all the little sonic 'lights' that traverse this album and Kristin's voice shatters everything and comes forward, cutting the atmosphere like a sharp knife. For the first time, Lingua Ignota and Seth are also using traditional instruments of the Appalachian region, all of course following the mission of glorifying an existential darkness. The vocals are layered, often singing the same verse on different octaves, creating a haunting environment that gradually but sharply scratches all the surfaces of emotional resistance we might have as an audience. Poetic spoken word intersects the noise only to give a glimpse of sanity before the next channeling. Cello and banjo are being summoned while percussion and other stringed instruments are turned into sources of sonic unease as the creature appears and disappears from focus. While all this is happening, no big or little sound is shadowed by any other sound and this creates a gaping void that allows this album's lyrics to disturb and challenge us so greatly, so deeply.
Be careful when listening to this album – it might be one of the most powerful emotional experiences you will have. It might even manage to shatter things inside you – let it! Kristin Hayter is not interested in taking anyone by the hand, she is a channeler, she is a sufferer and a graceful one for that matter – and for this reason alone, a unique being. Finishing this review, while listening to this album once again, makes one thing crystal clear – a mere review cannot confine its effect. It is beyond our judgment.
9/10
Blaue Rosen