Re-Textured Festival
Year 1, Day 1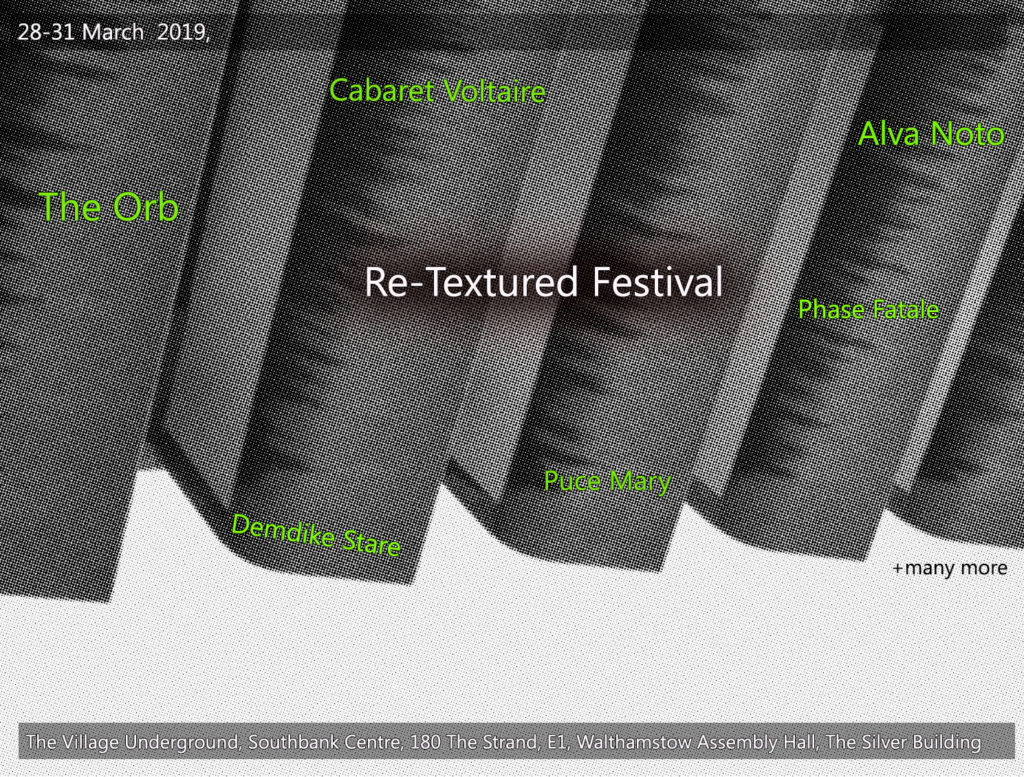 It was about time for a new festival to present itself in London. Re-textured is an ambitious endeavour that has been inspired by the underground electronic parties of Berlin and festivals such as Berlin Atonal and Unsound Festival in Krakow. An important part of this festival's aim is to draw attention to architecture, therefore it is not an one venue festival. It is scattered all around the city in carefully selected buildings. This first Re-textured festival has been the brainchild of the team behind Krankbrother who wanted to draw attention to lesser known or less represented electronic music styles. Blaue Rosen attended the first day of this festival because its highlight was the return of Cabaret Voltaire to London after 20 years!
A gig that was the equivalent of reading at least three art books, watching at least two social documentaries and listening to at least 10 different albums
Trevor Jackson, a multidisciplinary artist who has done design, audio and visual work and has also been inspired by the work of Keith Breeden for Scritti Politti and that of Neville Brody for Cabaret Voltaire, started his set respecting fully the announced stage times. The piece he created for the next 90′ not only 'warmed us' up in the best way for what Cabaret Voltaire had prepared, but also managed to alter our perception of time. Suddenly, after 40′ I had the feeling that it was dawn, I had spent all night dancing and I had listened to enough of music for one day. 90′ later, a
set without vocals which only had a minimalist light installation to accompany it, had managed to make almost everyone dance. Trevor himself, was in front of us, manipulating sounds and pre-recorded vocals. Apart from the overall mood created by the rhythms, what I really loved was that his set had a lot of different elements. Within these captivating rhythms, there were sonic snippets that appeared and faded away so seamlessly that the overall effect was similar to the creation of waves in the sea. All one had to do was to close their eyes and listen to the way a few synth melodies that nodded to Jean Michel Jarre, gave their place to harsh industrial beats that brought to mind the early releases of Front 242, just before the theme of 'Warm Leatherette', gave way to machine-like sounds that brought to mind the industrial sounds of SPK and Kraftwerk. The energy of this set was unique and the transitions that were made from psych trance to industrial, to IDM without allowing any of these styles to fully develop within the set, was something I haven't experienced before. This was not a cubistic approach to sound, but one that was aesthetically closer to the osmosis attempted by artists such as ROTHKO when it came to colour. Just where part of the painting almost seems to be of one or two colours, something happens at the boundaries of them and both seem to be completely different than we originally thought. This is how I experienced this set and I am already looking forward to the next time, this rather elusive musician will perform live.