"Look at how a single candle can both defy and define the darkness."? Anne Frank
The soundtrack of the previous month was exceptionally dark, both conceptually and in its atmosphere. The albums that we consider to be our favourite among the 68 releases that we listened to throughout the month, make a journey from melancholic neoclassical towards obscure extreme electronics. All of these releases put together, have created an incredibly hard-to-navigate, dark space, with impressive sonic textures and a subtle (and other times quite harsh) melancholy.
ATARAXIA's album entitled 'Synchronicity Embraced', as the band has shared with us in our recent interview, is closing the trilogy that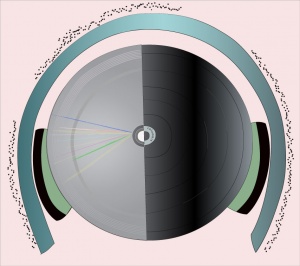 started with 'Ena' in an ideal way. We think that this is one of the best albums that the band has released so far. The ethereal vocals and the unique way in which the poetic lyrics are delivered, open up magical paths for the mind and the heart. We will talk more about this album in our review of it. It would be a huge miss, not to have this LP at your collection, because, as you might do with a precious book, you will more certainly find yourselves seeking 'refuge' in its melodies…
Current 93's new gem, 'The Light Is Leaving Us All', was presented to us live on the day of its release, in the only way David Tibet and the band can, in a poetic way and in a captivating honesty when it comes to the delivery of the lyrics. It is an album that works like a mantra, it is the sonic equivalent of a 'Memento Mori' painting because we think that they share some values . We will talk more about this album in our review of it.
Having being inspired by similar sources to C93, but in a different way, David Nance Group have created a folk rock/psych rock album with slow rhythms, beautiful guitar melodies and vocals that bring to mind both, Nick Cave and Pink Floyd. The album entitled 'Peaced and Slightly Pulverized' promises to make you feel exactly like that. We think that listening to the album of Vive La Rose entitled 'For She Who Hangs The Moon' next, is an obvious choice. This is an album with a calm atmosphere, whose sound combines acoustic folk, blues and modern classical elements and offers us 11 beautiful ballads. Pour yourselves your favourite drink and give some time to this album to work its magic.
The popular post punk genre, is represented by the beautiful releases of The KVB, the impressive debut album of Whispering Sons, the debut EP of The Man and His Failures and the new album of MONOGRAPHIC.  The KVB, in their album 'Only Now Forever' have found a fascinating way to combine post punk rhythms and aesthetics with an atmosphere that brings to mind, the mood of a new wave film. We loved 'Image', the debut album of Whispering Sons because it stands out from all the other albums that are inspired by the coldwave style.It has a beautiful arrangement, we loved the musicality of it and the uniqueness of the vocals, we loved the rhythmic alterations that happen within each song and throughout the album, as well as the whole production of this album. Post punk and coldwave usually rely on repetition and on a simple structure when it comes to rhythms, so we salute the creative verve of the band to explore and enrich their sound with such texture and depth. We also think that this album nods at the sound of Xiu Xiu in some ways. This is one more album that you do not want to be missing from your collection. The debut EP of The Man and His Failures entitled 'Persona non Grata' is a 'writing sample', a new exploration from one of the main vocalists of Mani Deum, Manos K. We will talk more about this EP in our upcoming review but for the moment, we can tell you that it deserves your attention as it lays in between genres in its own way, nodding simultaneously to american folk rock and to coldwave music!Speaking of american folk music, our next favourite musician comes from Texas and is no other than the mysterious Micah P.Hinson, the very one who has assembled some of  the musicians that had played an important role in his musical upbringing- the people that had shown him a new way to think, a new way to play, a new way to master life and death in an undisclosed location in East Texas the beginning of April 2018 and in 24 hours they created the mysterious sound that is the album entitled 'When I shoot you with Arrows I will shoot to destroy you'.The musicians who participated in the creation of this album have chosen to remain unnamed.In this album you will find songs that have a strong american folk feeling and others which find inspiration from post rock, before the album ends with a choral, religious way.A very special place in this monthly playlist is held for the debut album of Duende with (THE) David J (Bauhaus), entitled 'Oracle of The Horizontal'.The story of how this album came about is one filled with timely coincidences and shared passion for music of course. Our favourite song from this album is a hidden gem from the 1980s and Jeff Howitt of Duende has shared this story:  "The last track that we recorded (in one take) was 'Oracle', it's visionary lyrics having been written by David the day after an intense acid trip in 1986. David had discovered these in a little notebook while tidying up his storage unit. The book dropped out of a box and fell open at the first page. It was meant to be! Little shared miracles. ". This whole album is a fascinating music story with a gothic twist in terms of its aesthetics and mood. It is a fine piece of american folk and rock'n roll with added theatricality and mystery.Lyrics that hint at a bigger story, verses that could have been taken from a book of fiction and their delivery is also filled with an air of mystery and wit.
MONOGRAPHIC offer a nicely produced album entitled 'Structures' that combines punk guitar riffs, on which coldwave melodies and post punk atmosphere are being unveiled.
The albums of the next group, satisfy our love for dreamy post rock soundscapes, the heaviness of doom metal and lyricism. NANAKI in the album 'Absence' has composed beautiful melodies for when the 'noise' gets too much, for those moments where one needs to sit down and think calmly, for the moments where one needs to be inspired by calmness and gentleness. Because these moments of calmness are both rare and should be brief, the album entitled 'Resonant Sun' by Earth Ship is there to make things harsher and heavier. Guitar riffs that have both a hard rock and stoner metal 'face', give to the angry vocals a captivating and grounding heaviness. The band does not hesitate to explore the effect, slower rhythms can have in the 'weight' of their sound and also highlight the contrast of these rhythms with guitar riffs of higher pitch. If you liked Earth Ship then you must certainly like 'Tyke' by BongCauldron. The power slow rhythms have on heavy metal and hard rock songs like the ones BongCauldron have made, is the equivalent of the effect a great power has, in moving a huge and heavy stone.Having said that, the sound of  Black Sabbath came to mind sometimes while listening to 'Tyke'. Death Valley Girls on the other hand, are setting the tone with hard rock guitars and vocals that bring to mind Siouxsie Sioux and Lene Lovich, in their album entitled 'Darkness Rains'. We loved the layering of vocals as it added something from the dynamism, that choirs create, that nicely juxtaposed with the tribal percussion heard at the background.
We were puzzled in a positive way by the new album of Cursive entitled 'Vitriola', it is overall, an experimental album, a unique sonic collage of  indie rock and punk rock, that brings to mind both the sound of The Dresden Dolls (we found it hard to believe that some band has managed to do this but having listened to this album many times we are sure that it does this to some extent) and that of The Cure. Having said that, 'Vitriola' is an album that stands in its own right, crafting a unique sound in which piano, cello and horns accompany the 'usual' suspects, namely guitars, drums, bass. Rhythmically, you will find staccato rhythms, witty cello melodies and a minimal/stripped down approach that structures the songs, combined with a rare theatricality in the delivery of the vocals.The band has said: " Is everything simply broken, leaving us hopeless and nihilistic? Maybe not. There can be reassurance in commiseration, and the album is deeply relatable: Cursive may not be offering the answers, but there is hope in knowing you're not alone in the chaos. ".
We love distorted guitars, especially when they accompany punk songs and that is why we have included the new album of PIGEON, entitled 'Bug' in our soundtrack. It is a great punk album with an industrial texture that fans of KLINIK and Cabaret Voltaire, will probably also find appealing.
There are two things we cannot avoid, the emotional grips of ethereal melodies and of heavy darkness, we find both of them equally fascinating! The IDM/Experimental electronic/Noise/Industrial genres have taken a big part of this monthly playlist simply because the releases of this sonic style, were plenty and most of them really beautiful. First and foremost, the album 'The Drought' by Puce Mary is an outstanding example of 'extreme' electronic experimentation. It is one of those fine examples of releases, whose sonic texture is three dimensional, it has weight, depth and space. Many bands experiment and very few, reach such darkness with such strength! We were really astonished by this release that defies categorization and redefines experimentation. Power electronics, noise and industrial soundscapes are magically entwined with extracts from  Charles Baudelaire and Jean Genet. Fans of Jarboe, Lingua Ignota and Neurosis, will find this album very appealing. Exploring ceremonial electronic sound in a different way, the new release by Distel entitled 'Wapens' features Zanias in one track and alternates hypnotic industrial rhythms that have a 'muffled' quality and distorted vocals that are often treated as an additional instrument. Noisy, distorted and with rich industrial texture, is the album 'Ferocious' by Distortion Six. Those 'muffled' beats that play a clever game of hide and seek throughout this album will not let your heart rest for a split second. The album does neither loses its momentum throughout its duration nor its focus on what seems to be a ferocious dark entity that runs through it. Iszoloscope has also created a beautiful and atmospheric album, entitled 'All is Immensity and Chaos'. While it is hard to argue against this title, it seems that Iszoloscope is painting a picture for us, in a different way than usual. This album is the most atmospheric of the band so far. It creates areas of dark ambience where vocal samples that sometimes seem to simulate the breath of an animal are ascribing obscure meanings to the otherwise poetic track titles (e.g. 'imagine worlds that are just out of reach', 'the fear and need for an empty space'). This is an album that is not always racing towards noisy psychedelia but also builds up its energy and texture. Listening to it is like navigating a laboriously created maze.The albums of End.user and Sturqen close the circle of these very heavy electronic releases with 'Resurface' and 'Survivalismo'. End.user who also collaborated with 2methyl in this release, uses syncopation quite heavily and even 'visits', albeit briefly, the psych trance/techno sonic realm. Sturqen moves into similar sonic spaces using more tribal rhythms, IDM experimentation and darker sonic 'colours'.
Of course electronic music has a lighter side and even an ethnic side. These facets were presented in the albums of Scratch Massive, Ah!Kosmos, Dopplereffekt and EMIKA. Scratch Massive has been an all-time favourite band because they have a unique way of altering our sense of time and place through their fantastic mix of coldwave, melodic and deeply melancholic soundscapes. You can immediately identify a song of theirs by its dreamy vocals and those synth melodies that expand and contract time around you. Their latest album entitled 'Garden of Love' is definitely one of our favourite albums of this year because it contains a mesmerizing mix of coldwave and downtempo rhythms with dreamy vocals. Both Ah!Kosmos and EMIKA have created very atmospheric albums. Ah!Kosmos has used instruments associated with middle eastern music tradition in her album 'Beautiful Swamp'. Minimalist beats are enriched with sounds that bring to mind the subtle rhythmic psychedelia found in the dance of the whirling dervishes. The way pop rhythms appear here and there in this album, are numerous and very clever. The album feautures davul, daf  and even saxophone among more 'traditional' instruments like guitars, cello and features vocals from six different vocalists. EMIKA on the other hand, released her album entitled 'Falling In Love with Sadness', on 'World Mental Health Day' and has created areas of sonic sensuality and electroclash aesthetics. Underlying all this, is a beautiful production that highlights the fragility of the vocals and the strength of these very danceable rhythms. Finally, Dopplereffekt who have collaborated for the first time with Carsten Nikolai (a.k.a Alva Noto), in their album 'Athanatos' start from an interest in exploring through music, genetic conditions and chromosomal influences defining mortality and end up offering a sound that is minimal while it also seems to have been influenced by the sound of Kraftwerk.
Anne Frank has said that a single candle can both defy and define darkness. We think that, within the overall darkness and heaviness that surrounds this month's releases, the elements that made us love them, are like that single candle, both seemingly small and very significant! The painter Christos Bokoros has also been fascinated by similar topics, if you would like to check his work out. Having said all that, we hope you enjoy our playlist!
Blaue Rosen