'Dreams Take Flight'
A new album – A sonic journey channeling Jodorowsky's mystical surrealism and an enviable dreamy innocence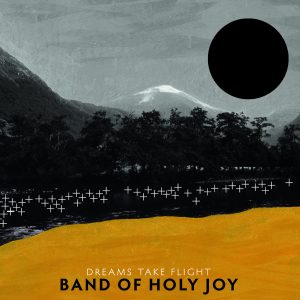 Two years after the release of 'Neon Primitives', with a pandemic enveloping the globe, Band of Holy Joy remain creative, inspired and inspirational while preparing their next release 'Dreams Take Flight'. Uncompromisingly romantic and poetic, in spite of the much 'heavier' collective mood from which their lyrics have sprung, the new album dares to dream about a post-dystopian world.
This time the album will be presented ahead of its release date (expected release date: May 14th 2021, Label: Tiny Global Productions) in a fresh way as Band of Holy Joy have commissioned eight artists (Alexandra Lort Phillips, Jonny Mugwump, Inga Tillere, Gil De Ray, Tam Dean Burn, Bjorn Hatleskog, Fliss Kitson, Jo Joelson) to create videos inspired by each of the songs of the album. Some of these artists are long term collaborators of the band, while others have recently joined forces with them having responded to the themes of this album – walls and masks, constraints and freedoms, lost connections, brutal interventions, crowded isolation and clouded behaviour. Apart from Johny Brown, vocals will also be provided in this album by Sukie Smith a.k.a the vocalist, guitarist, principal songwriter and one of the five musicians that constitute the band Madam.
---
"The songs themselves are shot through with personal ghosts and private acts, nagging doubts, fleeting moments of hope, illuminating the tricky art of living with love in these dark precarious times, always hoping to get by through whatever means, of magic music image light."
---
The result of these collaborations will be presented to us over four nights from February 24th to February 27th, shedding a different light on the numerous dimensions of each of the album's eight songs. The event, which is entitled 'Notes From A Gallery', is curated by Johny Brown and Bjorn Hatleskog, an experimental musician and sound artist based in London, with Inga Tillere and James Stephen Fin. It includes an online exhibition of short films, performance art, live radio and wall art created and transmitted live from Gallery 46 and broadcast on the band's You Tube channel.
---
"Every night at 8pm we will show two films and one live performance through our youtube channel, we will also broadcast a radio show from the gallery every day at 2pm. The week will be capped with a live interview on Zoom with Richard Strange at 7pm Saturday before our final broadcast. As a statement of intent we will inhabit Gallery 46 for the duration of the exhibition and create visual and sound works whilst we are there, setting up a radio station, creating visual works, recording sounds, breaching isolation".
---
Each day Johny Brown will introduce two videos, one for each of two songs of the new album. At the same time, artwork will be created live as a response to the songs, followed by filmed performances of the songs. On February 24th Alexandra Lort Phillips and Fliss Kitson will have their videos screened while on February 25th it will be the work of Gil De Ray and Tam Dean Burn that we will have the chance to enjoy. On February 26th the videos of Bjorn Hatesklog and Jo Joelson will be screened, while on the last day, we will have the chance to watch the videos that Jonny Mugwump and Inga Tillere have created for the songs 'Take A Leap Into The Great Unknown' and 'That Magic Thing'. You can find out more information about these artists on the band's webpage.
As only two songs have been released so far  from this album, this event will give us all a unique chance to experience the new conceptual/sonic vision of this endlessly creative, time-defying band. As is always the case when it comes to the Band of Holy Joy, it is never a question of whether a poetic dimension is explored, but rather, what direction it takes.
The 'flight' will depart at 8pm sharp on Wednesday February 24th and at the same time each day until February 27th . Make sure to be 'at the gate' on time!
Blaue Rosen